Seating Designer Hisako Nomura does over 300 cases of measurement a year for order made cushions. She introduced the world to the idea of Ecological Three Dimensional Molding system "ETHREEM"
We believe seat cushions are meant to offer comfort and relief.
Our therapists feel individual bodies with our hands to find the equilibrium, the most comfortable alignment which flow with gravity, and the best positions for the individual cushion production. The detailed process is based on Kinematics, Anatomy, Occupational therapy, Ecological psychology and Feldenkrais Method.
We then, collect data above to the cutting edge scanner technology.
This is how p!nto came about.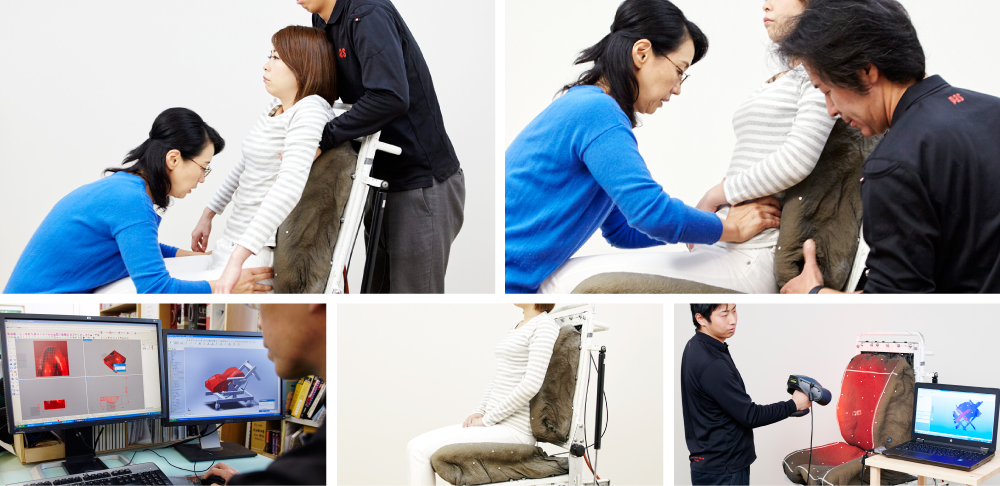 "ETHREEM" that allows us to sit back properly however we move.
You feel as though you are "wearing" them when you sit on our "p!nto" products. This is because the supporters inside the cushions place your ribs, pelvis and thighs in the most comfortable position to sit. (ETHREEM) We are actually moving while sitting. So it is important for us to have something to suppress the wobbling of our bodies core and axis. That makes us more efficient in what we do while sitting. "p!nto" products are nothing like braces for your teeth. They are a platform for a good posture. A good posture means to be able to have efficient movements. You can reach out in each direction. "p!nto" is the place where you can automatically go back to the starting position to have realigned perfect posture for your next move. After you have used p!nto for a while then your posture will improve for any activity.